~NeKo's World of Moonlight~
Name: Victoria
Nickname: Vic, Tori, Vicki(e.e hate that nickname), neko, Peeps~, nemo, nemonemo and a ton of typo versions of Neko.x3(not really considered nicknames for the typoes, but whatevs.lol)
Age: 21
Birthdate: 5/20/92 (1:54 AM)
Hair: blonde
Eyes: brown
Height: 5'4" and a quarter.|D I think.lol
Weight: Not yet.:P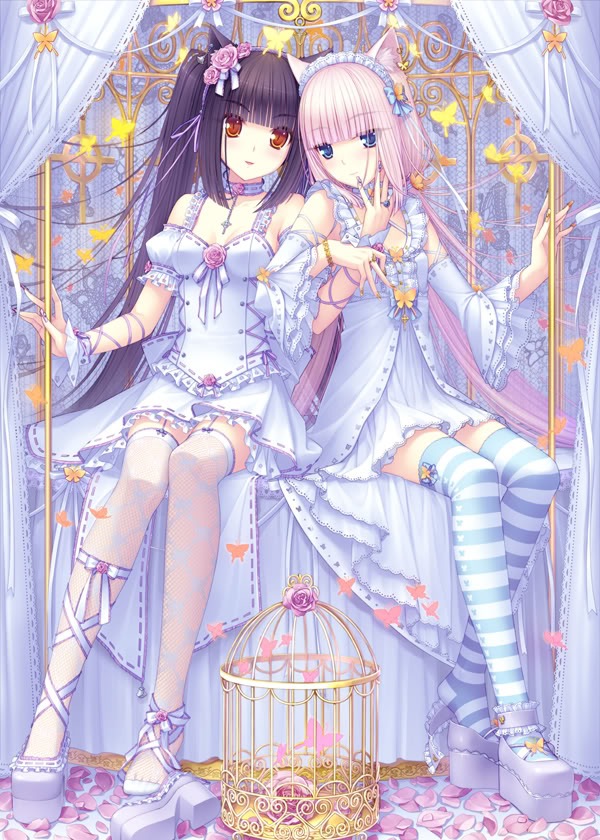 Favorite color(s): GREEN!owo and umm..the rainbow.x3
Personality: I'm easy going, I'm nice, I don't get mad/sad unless otherwise. I make friends in a snap (on here). I am sooo people deprived here..it's ridiculous.xP
Hobbies: draw, watch new movies(not as much anymore), listen to music, sing to music..x3, play games(who doesnt?lol), and i chat in here.(a lot). oh and sometimes i read mangas if possible.
Likes: food..>w<, music, anime, shopping for anime stuff, going to the mall and Hastings(Hastings is sooo awesome.ewe), chatting and um nice people.lol oh and cutesy stuff..or fluffy..or sparkly..xD Guitar Hero too!!:D
Dislikes: spiders, heights, mean people, snow/winter/cold.
Favorite Bands/singers:
Rock/Metal: Avenged Sevenfold, Disturbed, Sevendust, Trapt, Evanescence, Creed, Five Finger Death Punch, Godsmack, Metallica, Three Days Grace, Linkin Park, Nickelback, Skillet, Black Veil Brides, Adelita's Way, Seether, Mudvayne, Bullet For my Valentine, Escape the Fate and more~
70's & 80's: Def Leppard, Motley Crue, Aerosmith, Black 'n Blue, Poison, Quiet Riot, Dokken, Ratt, Foreigner, Blue Oyster Cult, Skid Row, Van Halen, Night Ranger, Whitesnake, White Lion, Loverboy, Styx, Oingo Boingo(i know.x3), Phil Collins and more~
Pop & Hip Hop: Justin.....Timberlake(>w< you thought i was gonna say Beiber didnt ya?x3) Ke$ha, Beyonce, Rihanna, Usher, Chris Brown, Black Eyed Peas, Avril Lavigne, Shakira, Nelly, Eminem(rap mostly), Rob Thomas(is he pop???o3o), Savage Garden(90's), Bow Wow, Gwen Stefani, No Doubt, T-Pain, Akon, Fall Out Boy(tho i think they're a mix of rock and pop), Taio Cruz, Wiz Khalifa, Lady GaGa(eh..sometimes) and more~
Country: Carrie Underwood, Kellie Pickler, Chris Young, Jason Aldean, Tim McGraw, Josh Turner, Leann Rimes, Sugarland, Dwight Yoakam, Shania Twain, Garth Brooks, Trace Adkins, Blake Shelton, Miranda Lambert, Sawyer Brown, Kenny Chesney, Dierks Bentley, Toby Keith and more~
Favorite/watched anime: Fullmetal Alchemist, Kekkaishi, Bleach(the first 3 I haven't been able to watch.;3;), xxxHOLiC, Ah! My Goddess(currently watching the first season), Tokyo Majin(bad ass anime.xD), Card Captor Sakura, Pokemon, Yu-Gi-Oh, Ouran High School Host Club, Azumanga Daioh, and a few others I can't name off the top of my head.lol
Favorite video games: Mario Kart 7(3DS), Champions of Norrath/Return to Arms(PS2), The Legend of Zelda: Ocarina of Time(3DS), Super Mario 3D Land(3DS), Pokemon Black(DS), Dead or Alive Dimensions(3DS), The Legend of Zelda: Twilight Princess(Wii), Super Smash Bros. Melee(Gamecube), The Legend of Dragoon(PS1), Spyro 2: Ripto's Rage(PS1), Crash Tag Team Racing(PS2), SingStar(Country, 80's, Amped, 70's, Rocks)(PS2), Guitar Hero: Warriors of Rock(XBox 360)(I need a 360 to play it since I've moved, I just have a Wii.T-T), Final Fantasy 7: Crisis Core(PSP...which I don't have.|D;;) and a few others.:3
Buddy List
Dorkasorous
xXShayde WolfXx
Linku
Gainax
Xenesis
Miracle Star19
superstarpanou
Babygurl24
Leaf angel
willotaku
ashio
dorkasorous
and..let's just go with all mah subsribers.x3 ALL 347 OF THEM 8D (currently..subscribing varies.:P)lol